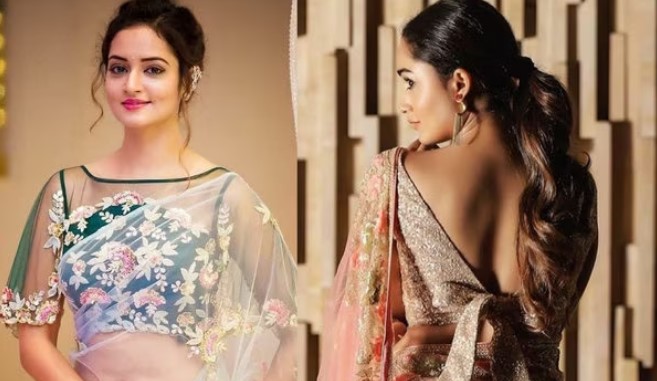 How to Choose the Perfect Blouse Designs for Your Saree
Uncover helpful hints and suggestions for choosing an ideal sleeveless blouse design for your saree. This article provides constructive ideas to help you create a distinctive and captivating style. From taking into account the occasion and body type to experimenting with various styles and fabrics, this manual has everything you need to create some wonderful designs and styles.
For millennia, women in India have worn sarees as their traditional and customary attire. It is a versatile piece of clothing that can be draped in multiple ways and coupled with a variety of blouses to create a unique look each time. Since the blouse is essential to the saree, choosing the right one can win or bust your entire look. Picking the right one from the plethora of options available on the market can be tricky.
Let's explore some ideas on choosing the best blouse design for saree, with an emphasis on the sleeveless blouse.
How to choose?
The occasion: When selecting a blouse design, it's important to consider the occasion and type of saree you're wearing. Pick a similarly striking blouse if you're attending a fancy event or wearing a luxurious silk or embroidered saree.
A sleeveless blouse with intricate embroidery or sequin embellishments will complement your saree's opulence. Conversely, go for a simple and modest blouse design if you're wearing a cotton or linen saree to a casual or semi-formal gathering.
Body type: Your body type greatly impacts the blouse style. A sleeveless blouse design might be a fantastic option if you have toned shoulders and arms. If you have a pear-shaped figure, go for a blouse with a V-neck or a U-neck to draw attention to your upper body.
For petite features, a high-neck blouse with a deep back may give the impression of a taller height. Additionally, a sleeveless blouse with a scoop or halter neck may balance your proportions if you have big breasts.
Fabric and color: The material and color of your blouse may significantly affect your entire look. Wearing a basic, sleeveless blouse in a complementary color to your richly embroidered saree is preferable. Consequently, if your saree is plain, you can play around with different blouse fabrics and patterns.
When it comes to apparel, it's essential to choose colors that complement your complexion. For instance, you can select red, orange, or gold blouse designs if you have a warm skin tone. If your skin tone is cool, choose blouse motifs in blue, green, or silver tones.
Neckline and back design: Your blouse's neckline and back pattern may uniquely accent your saree. A sleeveless blouse design can be paired with various neckline and back designs, depending on your preferences.
A boat or round neck can elevate your look, while a sweetheart neckline adds a feminine touch. Those who prefer a more modern look may find beauty in a high-neck or mandarin collar. When it comes to the back, a deep V-back or a backless blouse design can be a fantastic option for a party or a wedding.
Embellishments: Your blouse's design might be significantly influenced by embellishments. Designs for sleeveless blouses can be embellished with various decorations, including sequins, beads, and embroidery. It is crucial to keep in mind the overall appearance you wish to achieve while choosing accessories.
Statement earrings, bangles, and necklaces are just a few accessories that go well with sleeveless blouse designs. Use one big piece, such as a hefty necklace or dramatic earrings, to keep your outfit simple. Nevertheless, you can layer your accessories and match various pieces to produce a more ornate appearance.
Fit and comfort: It's crucial to think about fit and comfort when choosing a sleeveless blouse design. You may experience discomfort and self-consciousness if your blouse is excessively tight or loose. It's critical to get a blouse that fits properly and gives you freedom of movement. Also, if you intend to wear your saree for a long time, picking a blouse style that doesn't restrict your movement or irritate you is crucial.
Experiment: Don't hesitate to try on several styles to choose a sleeveless blouse that matches your particular style. Various variations include crop tops, halter necklines, racerbacks, and spaghetti straps. Each style can give your saree combination a distinctive look and personality.
There are many different materials that can be used to create sleeveless blouse designs, including silk, cotton, chiffon, and georgette. To achieve various looks and textures, try different textiles. For instance, a chiffon blouse can offer a flowing and feminine touch to a heavily embroidered saree, while a silk blouse adds elegance to a plain cotton saree.
Conclusion
It can be difficult, but picking the ideal blouse style for your saree doesn't have to be. You can choose a blouse design that goes well with your saree and improves your overall appearance by considering the occasion, body type, fabric, color, neckline and back design, embellishments, and accessories.
For individuals who wish to showcase their toned arms and shoulders and experiment with various necklines and back designs, sleeveless blouse designs can be a terrific choice. With creativity and a willingness to try new things, you may design a unique and elegant saree ensemble that expresses your distinctive style.