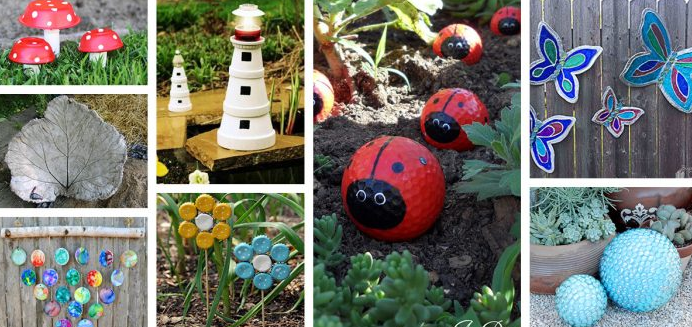 DIY Garden Decorations: Unleash Your Creativity!
Get ready to unleash your creativity and turn your garden into an outdoor oasis! You have the power within you to craft stunning DIY decorations that will make your garden the envy of the neighborhood. Why spend money on expensive store-bought items when you can design personalized pieces that reflect your unique style? All it takes is a little imagination and the willingness to get your hands dirty. In just a few simple steps, you'll be creating decorations that transform your garden into an extension of your home. So grab some supplies, crank up the music, and let your creative juices flow. By the time you're done, you'll have a collection of decorations that fill your garden with color, texture, and life. Your garden decorations will become a source of joy and pride, all thanks to your vision and hard work. The possibilities are endless, so start dreaming big!
Enhancing Your Garden with DIY Decorations
Unleashing your creativity in the garden is fun, rewarding, and eco-friendly! DIY decorations are budget-friendly, help you personalize your green space, and reduce waste. ###
Handcrafted signs, whimsical wind chimes, and repurposed art are some simple yet charming DIY projects perfect for any gardener. You can design custom garden signs using wood, chalkboard, or metal to label plants or welcome visitors. Get crafty with recycled materials like tin cans, glass bottles, and seashells to make colorful wind chimes that will delight your ears and eyes.
Don't throw out those old picture frames, mirrors, or baskets – transform them into planters or organizers! Paint and decorate them for an eclectic look. Yard sales and thrift stores are treasure troves for discovering unique pieces to upcycle.
Unleash your imagination and you'll be creating garden decorations in no time. Express yourself by picking a fun theme or color palette. Keep costs down by using what you already have or buying budget materials. Most importantly, have fun and be proud of your handmade, eco-friendly garden enhancements. Your creative spirit will flourish as your garden does!
DIY decorating allows you to put your personal stamp on your garden in a sustainable, budget-friendly way. Turn trash into treasure, get crafty, and make the most of natural materials for a gorgeous, one-of-a-kind outdoor space you'll love spending time in. Happy crafting!
Step-by-Step DIY Garden Decoration Projects
Ready to unleash your creativity in the garden? With a few basic tools and supplies, you can craft whimsical decorations to brighten up your outdoor space.
Step 1: Gather Your Materials
You'll want:
Basic tools like a hammer, pliers, wire cutters, paintbrushes, etc.
Eco-friendly materials such as stones, wood, fabric, beads, and string
Safety gear including work gloves, protective eyewear, and dust masks
Step 2: Choose an Inspiring Project
Whether you fancy garden signs, recycled art, or wind chimes, there are so many fun projects to pick from! Get creative with materials on hand for a custom look.
Step 3: Follow Simple Tutorials
Paint and stencil an inspirational garden sign. Clean and assemble found items into a mosaic. Select chimes, beads, and trinkets to make music in the breeze. The possibilities are endless!
With a little imagination, you'll be crafting memorable garden decorations in no time. Personalize your space and bring more joy to the simple moments outside. Your eco-friendly creations will make wonderful conversation pieces for years to come. Now get started – your dream garden awaits!
Showcasing Your DIY Garden Decorations
You've crafted some charming decorations to adorn your garden, now it's time to put them on display! Arrange your decor in an eye-catching yet balanced way to highlight your hard work and creativity.
Start by scattering your decor around the garden, not clustered together. Space them out so each item can shine on its own. Group smaller decor by theme, color or material in different areas. Your garden will look vibrant yet uncluttered.
Place decor at varying heights for visual interest. Hang wind chimes or birdhouses from tree branches. Set lanterns on top of fence posts or walls. Nestle solar lights along the edges of paths. The possibilities are endless!
Rotate your decor seasonally to keep things fresh. Bring out garden stakes and welcome signs in spring, sun catchers and chimes in summer, then swap for fall leaves garlands and pumpkins. Come winter, string up lights for a festive glow.
Your DIY decor deserves to be a focal point, so choose spots that will highlight each piece. A trellis, arbor, or large plant can make the perfect natural backdrop. Or place decor in a location that complements its theme, like a sundial in a sunny patch or a wheelbarrow planter near your garden shed.
With some thoughtful arrangement, your handcrafted garden decor will turn your outdoor space into a vibrant, whimsical oasis that reflects your playful personality. Your creative expressions, on display for all to enjoy! Step back and admire your garden's transformation, knowing you unleash your imagination to create something wonderful.
Conclusion
You've now got so many wonderful ideas and inspiration to get creative in your garden this season! There are endless possibilities for adding colorful decorations and personal touches to make your outdoor space vibrant and inviting. So unleash your imagination – get out in that garden and start crafting! Whether you keep it simple with painted rocks or get more elaborate with mosaic stepping stones, the results will delight you and everyone who visits. Your DIY garden decorations will make you smile each time you see them. So grab some supplies, turn on some music, and enjoy an afternoon of creativity in your garden. The fruits of your labor will be well worth it. Get crafting and happy gardening!