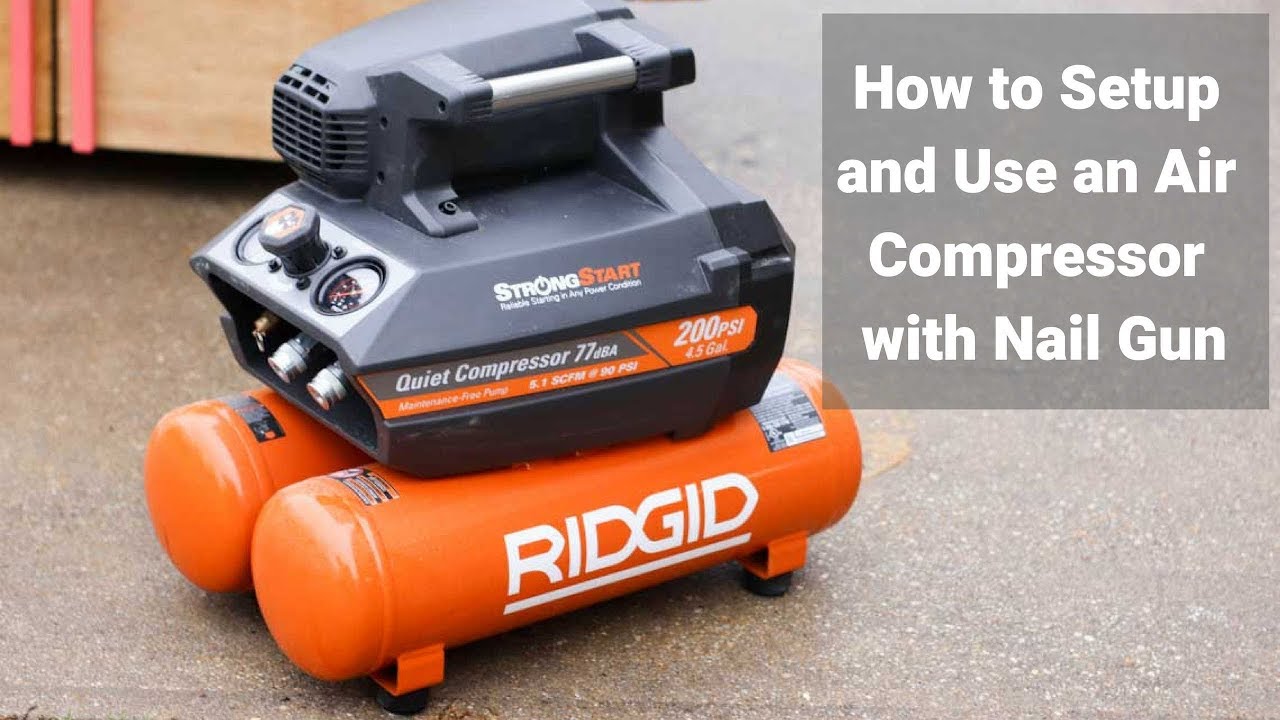 What To Look For When Choosing An Air Compressor For Nail Gun
When choosing an air compressor for your nail gun, you should look for features that fit your needs. A few of these features include portability, size, and oil-free pump. CFM ratings are another important consideration. Also, be sure to look for the amount of pressure the unit can deliver.
Portability
If you plan to use an air compressor with your nail gun, consider purchasing one that is portable. There are several types of portable air compressors, each offering different strengths of pressurized air and different sizes. For convenience, consumers prefer to purchase compact units that can be easily moved from one location to another. A small air compressor will provide enough pressure to power a single nail gun, while a large air compressor can power multiple nail guns simultaneously.
Choose a portable air compressor if you plan on using your nail gun frequently, as you'll want to carry around the tool. This type of air compressor will provide short bursts of compressed air, so it's essential to purchase one that can meet your needs. Depending on how much work you'll be doing with your nail gun, you may want to purchase a tool with a larger tank capacity.
Choose an air compressor with a high PSI. This tool can help you get a nail job done more quickly. Having enough air will reduce the need to stop and restart your project several times. An air compressor with a larger air tank will ensure your work is done without interruption.
Size
Air compressors are essential when working with pneumatic nail guns. But what size should you get? This decision is made easier by understanding the airflow and pressure requirements of nail guns. You should also know what tools you plan to use the air compressor for. A handy CFM chart will help you determine the air compressor size that will be ideal for your needs.
There are different types of air compressors, but most are portable and have tanks between one and eight gallons. However, if you're doing a lot of building work, you'll probably need a larger tank. For instance, if you're working on large projects with heavy-duty nails, you'll probably need an air compressor with a tank size of six or eight gallons.
When buying an air compressor, it's best to choose one with a higher CFM rating. This will allow it to provide more compressed air in a smaller area. This will increase your chances of nail-firing accuracy. A nail gun's max operating pressure is approximately 115 PSI, and most air compressors will provide this.
Oil-free pump
When it comes to nail guns, the best air compressor for them is the one that can pump out a steady and fast air pressure, so that the nails can be driven through material without any problems. Nail guns are an indispensable tool in the manufacturing industry and are extremely convenient for different DIY projects. However, it can be difficult to choose the right air compressor for the nail gun that will work best for your needs.
When choosing an air compressor, always choose one that has an oil-free pump. This will prevent the need for frequent oil changes and messy spills. An oil-free pump will also reduce the risk of motor damage from excessive oil. Another important feature to consider when choosing an air compressor for nail gun is its exhaust port. An exhaust port will provide better cooling for the motor and will help you work comfortably. In addition, make sure the air compressor has a rollbar design. The rollbar design will help protect the nailer from accidental falls and damage.
A good air compressor for nail guns should also come with a 3-gallon tank for storing the air. It should also feature a rear suction-cup foot mount for stability while working. It should also have a high-quality electric motor for smooth performance.
CFM rating
Air compressors are rated in CFMs (Cubic Feet Per Minute). The higher the number, the more air the compressor can supply. A higher CFM rating is better for bigger applications. However, nail guns only need small bursts of air, so you can get by with a lower CFM. Another factor to consider is the PSI (pounds per square inch). An air compressor's PSI rating is based on the pressure of air applied to a square inch of space.
Air compressors can be used for a variety of tasks, from inflating tires to powering a nail gun. Choosing the right air compressor for your task is an important decision, but it's important to know exactly which tools you'll be using and how much air each tool will require. You need an air compressor that will provide enough airflow to run your nail gun efficiently. You should also consider portability when buying an air compressor for a nail gun.
A good air compressor for a nail gun should have a minimum CFM of 2 CFMs. While this is not a high number, it is sufficient to power a nail gun. It should be powerful enough to deliver a single nail. In addition, it should have a good noise level.