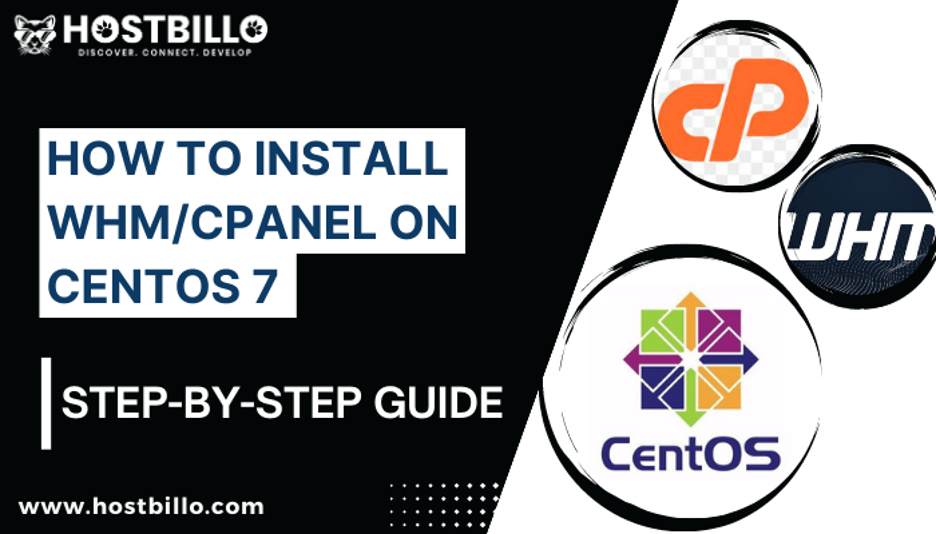 How to install WHM/cpanel on Centos 7 – A Step-by-Step Guide
cPanel, a leading web hosting control panel, offers a user-friendly interface. It simplifies website management tasks for both hosting providers and website owners. In this comprehensive guide, we will walk you through a detailed step-by-step process on how to install cPanel/WHM on CentOS 7, a popular and stable Linux distribution. This distribution is known for its reliability, security, and long-term support.
What Is cPanel?
cPanel is the most compelling and flexible control panel for hosting purposes. It provides a graphical interface for managing various aspects of web hosting. With cPanel, users can easily handle domain management, file management, email administration, database management, security settings, and more. Its intuitive interface allows users to efficiently manage their websites with minimal technical expertise. So, when you install whm cPanel, you get the possibility to streamline and automate routine hosting tasks while saving time and effort.
Why CentOS 7?
CentOS 7 is a Linux distribution widely recognized for its stability, security, and long-term support. It is a prevalent option for environments of web servers due to its compatibility with cPanel/WHM. By selecting CentOS 7, you ensure a reliable and secure foundation for hosting your websites and applications. Further, when you install ifconfig in centos 7, you get guaranteed seamless integration, optimal performance, and a familiar environment for managing your web hosting needs because of the compatibility of CentOS with cPanel/WHM.
Minimum Resource Requirement To Install cPanel
Before you proceed to install whm cpanel on centos 7, it is essential to ensure that your server meets the minimum system requirements for cPanel. Typically, these requirements include a minimum of 1 GB RAM, 20 GB of available disk space, and a stable internet connection. It is also recommended to have a fresh installation of CentOS 7, devoid of any conflicting software or services. Meeting these requirements ensures a smooth and efficient installation process.
Pre-Requirements Of cPanel Installation
Prior to you moving to install whm cpanel on centos 7, certain pre-requirements must be met. These include having root access to the CentOS 7 server, ensuring that the server's hostname is a Fully Qualified Domain Name (FQDN), and having a valid IP address assigned to the server. These prerequisites help create a suitable environment for cPanel installation and ensure seamless functionality.
Installing cPanel With Trial License
You can install whm cPanel on cpanel with concise steps mentioned below –
Step 1: Prepare Your Server
Before installing cPanel, ensure that your server meets the minimum system requirements. Make sure you have a clean installation of CentOS 7 and that your server has a stable internet connection.
Step 2: Access Your Server via SSH
Connect to your server using SSH (Secure Shell) with root access. You can employ tools such as PuTTY (for Windows) or Terminal (for macOS/Linux) for constructing an SSH connection.
Step 3: Run the cPanel Installation Script
As soon as you are logged in via SSH, enter the below to command navigate to the directory of the root:
cd /
Download the cPanel installation script using the following command:
curl -o latest -L https://securedownloads.cpanel.net/latest
Run the installation script by executing the following command:
sh latest
Step 4: Begin the Installation
The cPanel installation script will start the installation process. It will automatically detect the CentOS version and install the necessary dependencies. This step can take some time. So, let the installation run its course.
Step 5: Set Up the Trial License
In the installation process, you will be asked to set up a trial license. Go with the on-screen instructions to finish the trial license setup. This will allow you to use cPanel with complete functionality for a restricted time period.
Step 6: Access cPanel
As soon as the installation is complete, you enter the IP addres or domain name of your web server followed by ":2083" in a web browser to readily access cPanel. For example, if your server IP address is 123.456.789.123, you would enter "https://123.456.789.123:2083" in the browser address bar.
Step 7: Log In to cPanel
On the cPanel login page, enter your username as well as password. These credentials were constructed during the procedure of installation. After entering the login details, click "Log in" to access the cPanel control panel.
Purchase, Verify And, Update The cPanel License
After the installation, it is necessary to purchase a cPanel license to continue using it beyond the trial period. Follow these steps to purchase, verify, and update your cPanel license:
Visit the cPanel Store or a certified cPanel partner to purchase a license suitable for your needs.
Once you have obtained the license, log in to your WHM interface.
Navigate to the "cPanel License" section and enter your license details to verify and activate it.
After successful verification, update your license by executing the following command:
/usr/local/cpanel/cpkeyclt
This command will update your license and ensure uninterrupted access to cPanel/WHM.
Final Words
The installation of cPanel/WHM on CentOS 7 is a straightforward process that empowers you with a powerful web hosting control panel for efficient website management. cPanel's intuitive interface, coupled with CentOS 7's stability and security, ensures a reliable hosting environment for your websites and applications. By following the step-by-step guide outlined in this blog, you can successfully install cPanel/WHM and unleash its extensive features and functionalities. From domain management to email administration, database management, and security settings, cPanel provides a comprehensive suite of tools to simplify your hosting tasks.
Moreover, it's critical to note that cPanel is not the only aspect to consider when choosing a web hosting provider. To ensure a seamless and reliable web hosting services, it is recommended to select a reputable hosting company. Hostbillo is a leading web hosting company known for its hyper-scale services and seamless customer assistance.
Hostbillo offers reliable hosting solutions that are compatible with cPanel/WHM, providing a robust infrastructure, ample resources, and reliable performance. With Hostbillo, you can experience the benefits of cPanel/WHM along with top-notch hosting services and technical support. Whether you are a small business owner, an aspiring web developer, or an established enterprise, cPanel/WHM on CentOS 7, coupled with Hostbillo's hosting solutions, can provide the stability, security, and ease of management you need for your online presence. Install whm cpanel on CentOS 7, and partner with Hostbillo for a reliable and feature-rich hosting experience that will drive your online presence to new heights.