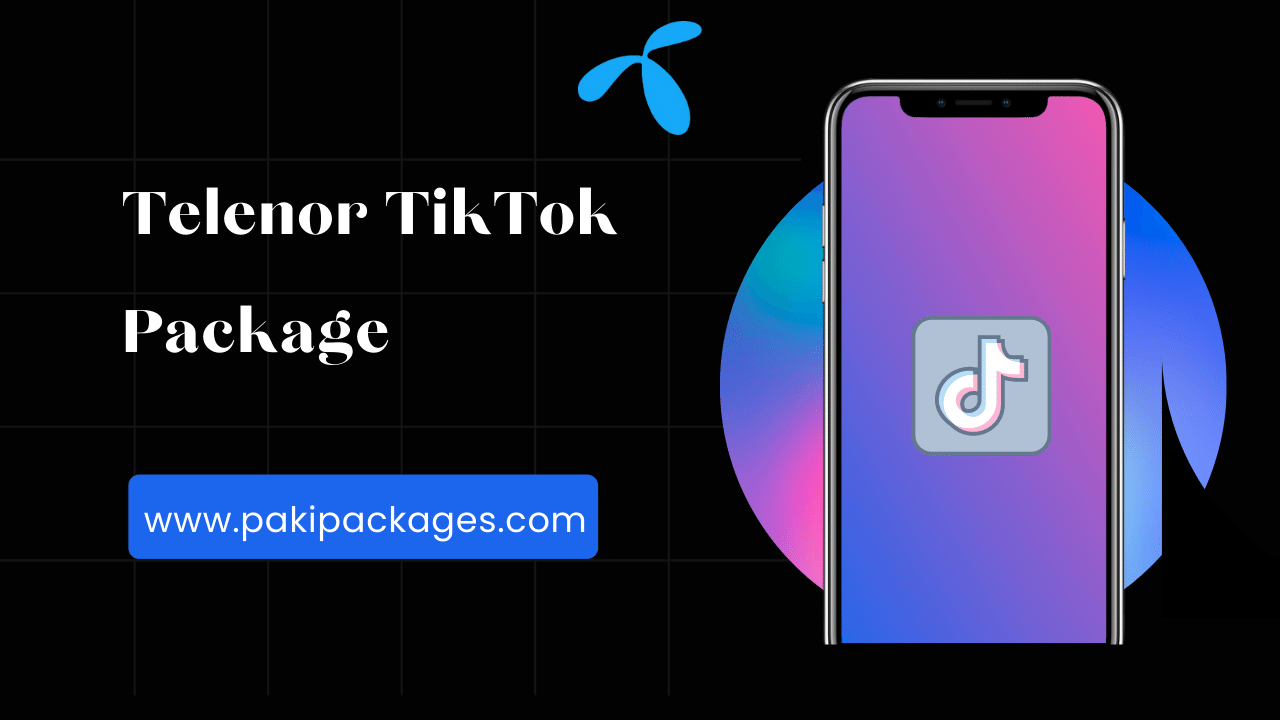 Telenor TikTok Package Daily, Weekly, Monthly [2023]
Get ready to immerse yourself in the world of virtual creativity and entertainment with Telenor's latest offering—the Telenor TikTok package. Tailor-made for the global community of video-sharing enthusiasts, this data package is a boon for every TikTok user out there. Telenor, one of the leading telecommunication companies, with its innovative services and customer-centric approach, ensures that you remain connected to your favorite social media app in a way that is both pocket-friendly and data-efficient.
The Ultimate TikTok Experience with Telenor
Have you ever found yourself wanting to create, share or simply enjoy videos on TikTok but were held back due to data constraints? Fret not, because with the Telenor TikTok package, those days are a thing of the past.
Telenor understands the importance of being connected in today's fast-paced digital world. Hence, it has launched an exclusive TikTok package that aims to provide users with uninterrupted access to TikTok, one of the world's most popular video-sharing platforms. Telenor's TikTok package allows you to surf, create, and share content on TikTok without worrying about data consumption.
Get the Best of TikTok with Telenor's Exclusive Offer
Stay tuned in to the trends, show your creativity, or simply sit back and scroll through hours of entertaining content on TikTok with Telenor's exclusive data package for TikTok. This specific offer has been crafted, keeping in mind the needs and demands of TikTok enthusiasts. Now, you can enjoy high-quality video streaming without worrying about running out of data or overshooting your internet bills.
Telenor Daily TikTok Package
| | |
| --- | --- |
| Name | Telenor Daily TikTok Package |
| Internet | 1500 MBs |
| Validity | 12 Hours |
| Timing | 6 AM to 6 PM |
| Charges | Rs.15 |
| Telenor Daily TikTok Package Code | *10# |
Telenor Weekly TikTok Offer
| | |
| --- | --- |
| Name | Telenor Weekly TikTok Offer |
| Internet | 8 GB |
| Validity | 7 Days |
| Charges | Rs.185 |
| Telenor Weekly TikTok Offer Code | *336# |
| Multi SUB | Allow |
Telenor TikTok Package Monthly
| | |
| --- | --- |
| Name | Telenor TikTok Package Monthly |
| Internet | 3 GB |
| Validity | 30 Days |
| Charges | Rs.60 |
| Offer | (TikTok, Likee, and Snack Video) |
| Telenor Monthly TikTok Offer Code | *121# |
How to Activate the Telenor TikTok Package?
Activating the Telenor TikTok package is a breeze. All it takes is a few simple steps:
Dial the subscription code 34520# from your Telenor number.
After dialing, follow the voice prompts and choose the TikTok package.
Wait for the subscription confirmation message.
And voila! You're all set to enjoy an endless streaming experience on TikTok!
What are the Benefits of the Telenor TikTok Package?
The benefits of the Telenor TikTok package are multifaceted, making it an unbeatable choice for all TikTok enthusiasts:
Ample Data: The package offers ample data specifically allocated for TikTok, ensuring that you never run out of data while enjoying your favorite app.
Affordability: Telenor believes in making its services accessible and affordable for all. The TikTok package is reasonably priced to cater to all income groups.
Quality Streaming: With Telenor's robust network and high-speed internet, enjoy high-quality, seamless video streaming on TikTok.
The Telenor Advantage
The Telenor TikTok package is a testimony to Telenor's commitment towards keeping its users engaged and entertained by providing them with internet solutions that fit their needs. With a strong reputation in the telecommunications industry and a history of offering high-quality services, Telenor continues to cater to the digital lifestyle of its customers. By introducing this TikTok exclusive package, Telenor has once again shown its ability to stay ahead of the curve by anticipating user needs and trends.
Unleashing the Power of TikTok
TikTok is not just about fun and games—it's a platform where people showcase their talent, creativity, and express themselves. The TikTok platform has provided people with an opportunity to learn new things, share their knowledge, and even grow their businesses. Thus, the Telenor TikTok package becomes more than just a data plan—it's your ticket to a global stage where you can shine!
Expert Insight and Assurance
Telenor's TikTok package is not a haphazard offering. It is the result of a meticulous analysis of user behavior and market trends conducted by a team of experts. Their deep understanding of the customer's needs and industry dynamics has resulted in a package that accurately addresses the demands of the modern TikTok user.
So, when you choose the Telenor TikTok package, you're not just subscribing to an internet package; you're benefiting from the expertise and assurance that comes with a renowned global brand.
Seamless Connectivity, Endless Possibilities
Can I use the Telenor TikTok package for live streaming on TikTok? The answer is a resounding 'yes.' With Telenor's robust network, you can live stream your content on TikTok seamlessly. Connect with your followers in real-time, and engage with them without worrying about buffering or connectivity issues.
The Telenor TikTok package offers a gateway to a world of endless possibilities. It is your tool to explore, connect, learn, and express. With Telenor's TikTok package, you are not limited by data restrictions but empowered by them!
Why Choose the Telenor TikTok Package?
1. Reliability: Telenor's reliable network ensures uninterrupted TikTok streaming.
2. Affordability: Catering to users with different data needs, the package is affordable and delivers value for money.
3. Customer Care: Telenor's professional customer service team is available around the clock to answer your queries and provide necessary assistance.
Frequently Asked Questions
1. Can I Use Telenor TikTok Package for Other Social Media Apps?
The Telenor TikTok package is specifically designed for TikTok usage. However, Telenor does offer other social media packages for platforms like Facebook, Instagram, and Twitter.
2. What is the Validity Period of the Telenor TikTok Package?
The validity period of the Telenor TikTok package may vary based on the specific plan chosen. Generally, the validity ranges from a single day to a month.
3. How to Check the Remaining Data in the Telenor TikTok Package?
You can check the remaining data by dialing a specific USSD code. After dialing, you will receive an SMS detailing your remaining data.
4. Are there Any Additional Charges for Using TikTok on Telenor?
No, there are no additional charges for using TikTok with the Telenor TikTok package, provided you have subscribed to it and it is valid.
Also Read: Betproexch: Number 1 dealer in Pakistan Dubai and India (Sports Betting)
Final Thoughts
Stay in touch with the trends, share your unique creativity, and let the world see your talent with the Telenor TikTok package. Telenor, committed to keeping you connected with what matters most, brings you a package designed to fulfill your digital desires. Enjoy seamless connectivity, high-quality video streaming, and an unparalleled TikTok experience with the Telenor TikTok package.
Telenor, a name synonymous with quality and reliability, invites you to step into the world of TikTok and explore the joy of unhindered entertainment. With the Telenor TikTok package, make every moment count, because at Telenor, your digital lifestyle is our priority!
Experience the joy of unlimited TikTok access with Telenor. Grab your Telenor TikTok package today, because you don't want to miss a moment of the TikTok world!