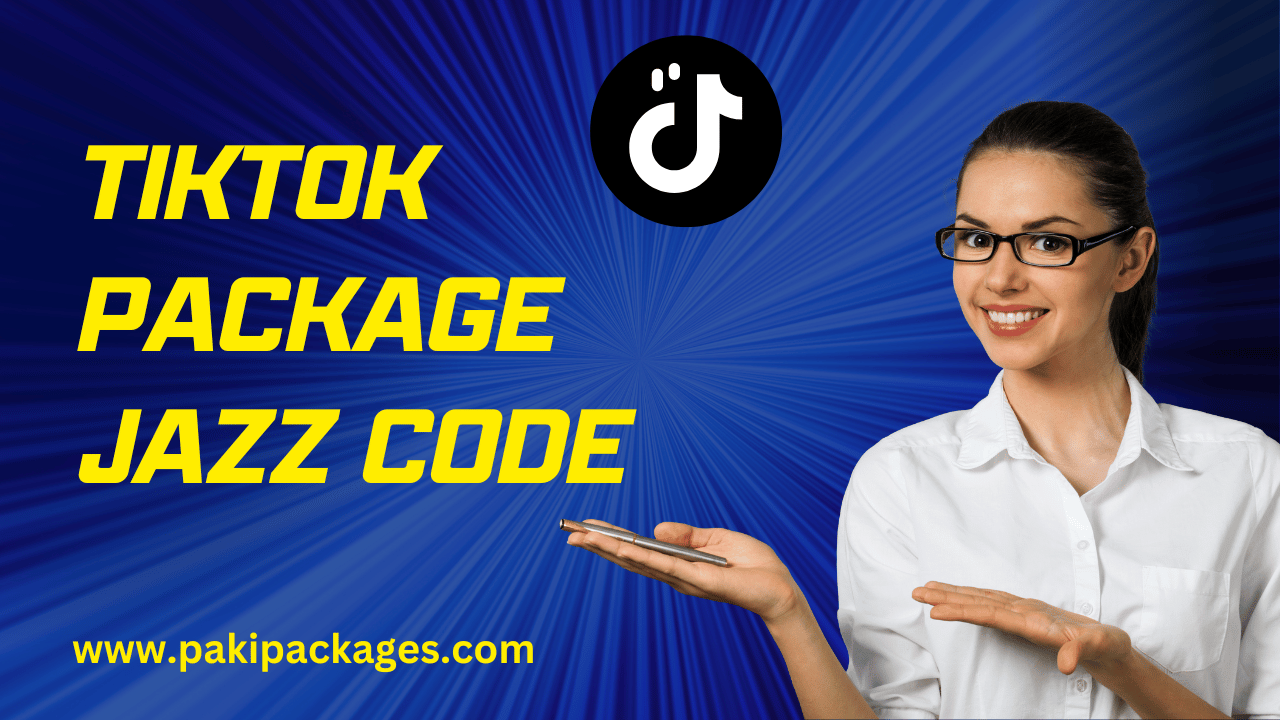 TikTok Package Jazz Code: Daily, 3Days, Weekly, & Monthly (2023)
We live in a world that's increasingly connected and digital. With the rise of platforms like TikTok, users are seeking efficient ways to access their favorite content. This is where the TikTok Package Jazz Code comes into play. Jazz, a leading telecommunications company, offers a specialized TikTok bundle to cater to the needs of TikTok enthusiasts. In this comprehensive guide, we're going to unlock the wonders of the Jazz TikTok bundle code and guide you through the process of activation.
A New World of Entertainment with Jazz TikTok Bundle
Gone are the days when you had to worry about data consumption while browsing your favorite TikTok videos. Jazz offers an all-in-one solution to keep you hooked to the platform, without worrying about data exhaustion. The Jazz TikTok bundle brings you a seamless TikTok experience. It not only offers a generous amount of data specifically tailored for TikTok but also comes at an affordable price, enhancing your overall user experience.
How to Activate TikTok Package Jazz Code?
Activating the TikTok package on Jazz is as easy as pie! You simply need to dial the code for subscribing to the TikTok bundle on Jazz from your Jazz SIM. This exclusive code activates the TikTok package, allowing you to explore, create and share TikTok content with ease. In the next section, we'll dive deeper into this activation process.
TikTok Jazz Code Activation Process and Details
The TikTok Jazz package code is a short and unique number that triggers the activation of your package. Here's how you can execute this straightforward process:
Dial the Jazz TikTok bundle code on your phone.
Follow the voice instructions to confirm your subscription.
Receive a confirmation message of package activation.
That's it! With these simple steps, you are all set to enjoy endless TikTok content with Jazz's exclusive package.
Jazz TikTok Package Daily
You can get 30 Mbps 4G internet by dialing *114*5#. This package cost PKR 27 and is only good for one day (24 Hours). Details are provided in the table below.
Data: 30 Mbps
Price: PKR 27
Validity: 1 Day
SUB-Code: *114*5#
Status Code: *114*5*2#
Jazz TikTok Packages Weekly
Receive 12 GB for TikTok for the next 7 days by dialing *117*14#. Additionally, it offers countless Jazz Minutes. This bundle costs PKR 135 and is available from 8 am to 6 pm. The required load or recharge is 156 rupees.
Data: 12GB
Price: PKR 135
Validity: 7 Day
SUB-Code: *117*14#
Status Code: *117*14*2#
Jazz Monthly TikTok Package
For 30 days, get 15GB (15000 Mbps) of TikTok by dialing *117*30#. The offered price is only PKR 650. 750 rupees must be loaded or recharged.
Data: 15GB
Price: Rs 650
Validity: 30 Day
SUB-Code: *117*30#
Status Code: *117*30*2#
Jazz Code for TikTok Bundle Subscription: Benefits and Features
Activating the TikTok bundle via the Jazz code comes with an array of exciting features and benefits. The package ensures a seamless TikTok experience with generous data, affordability, and easy activation. Whether you're an influencer looking to create content or a user seeking to stay updated with the latest trends, the Jazz TikTok bundle has you covered.
Are There Any Discounts or Offers Available for TikTok Bundle on Jazz?
Jazz continually aims to offer the best value to its users. Therefore, there might be occasional discounts and special offers for the TikTok bundle. It is recommended to check their official website or contact their customer service for the most recent promotions.
Jazz Code for TikTok Package Renewal
The Jazz TikTok bundle is not just easy to subscribe to, but equally convenient to renew. The renewal process is simple and can be executed using the same Jazz code used for activation. However, ensure that you have sufficient balance for the package renewal to avoid any interruptions in service.
The Validity of the TikTok Package on Jazz
The validity of the TikTok package varies based on the specific bundle you choose. Typically, Jazz offers daily, weekly, and monthly packages to cater to the different needs of users. Always remember to check the bundle's validity during subscription to manage your usage effectively.
How to Unsubscribe from the TikTok Package on Jazz?
Decided to opt-out of the TikTok bundle? No worries! Jazz offers an easy unsubscribe process. Just dial the specific code to unsubscribe from the TikTok package. Following the voice prompts, you can easily stop the service at any time.
Checking the Remaining Data Balance of Your TikTok Bundle on Jazz
Keeping track of your remaining data balance is crucial. Jazz provides a quick and simple way to check your remaining data balance. Dial the specific code provided by Jazz, and you'll receive an SMS detailing your remaining data balance.
Is There Any Hidden Fee?
With Jazz, what you see is what you get. There are no hidden fees associated with the TikTok package. However, remember that standard taxes apply based on your region.
A Deep Dive Into Jazz TikTok Package Jazz Code: The Key to Uninterrupted Entertainment
Continuing from where we left off, let's further dissect the exciting features of the Jazz TikTok bundle and understand how it caters to your needs.
The Affordability Factor
Among the myriad benefits that the Jazz TikTok bundle brings to the table, its affordability stands out as a distinguishing factor. The TikTok bundle is designed to offer maximum value for money, allowing you to explore the world of TikTok without breaking the bank. Jazz is committed to providing cost-effective solutions for users, and the TikTok package is an exemplification of this commitment.
The Freedom to Choose
Jazz believes in the power of choice, and therefore, offers the TikTok package with multiple validity options. The availability of daily, weekly, and monthly bundles means you can choose a package that best suits your usage and budget. This flexibility adds to the user-centric approach Jazz has championed in its offerings.
Jazz's Customer Service
Experiencing difficulties or have queries regarding the TikTok package? Jazz's proactive customer service is always on its toes to assist. You can get in touch with them for issues related to package activation, renewal, and even for inquiries about the latest discounts or offers available for the TikTok bundle.
Jazz TikTok Bundle Subscription Code: A Code for Convenience
The key to subscribing to this all-encompassing package is the Jazz TikTok bundle subscription code. Dialing this code from your Jazz number will open doors to endless TikTok fun. The code is simple, user-friendly, and gets the job done in an instant.
Regular Updates and Offers
Jazz frequently introduces updates and offers on its packages to offer the best value to its users. Keep an eye on Jazz's official channels or stay connected with their customer service to stay updated with any new offerings or promotions related to the TikTok bundle.
Jazz TikTok Bundle: Redefining the Digital Landscape
As we continue our exploration of the Jazz TikTok bundle, it becomes increasingly apparent how this offering redefines the digital landscape for TikTok enthusiasts.
Going Beyond the Ordinary with Jazz TikTok Package
While most data packages place limitations on users, the Jazz TikTok package stands out for its focus on a specific platform – TikTok. By dedicating a substantial portion of data solely to TikTok usage, Jazz goes beyond the ordinary. Users can freely indulge in their TikTok sessions without worrying about consuming their regular internet data. This targeted approach underscores Jazz's understanding of evolving user behavior and preferences.
Jazz TikTok Bundle Code Redemption: An Easy Affair
Jazz has ensured that subscribing to the TikTok bundle is a hassle-free process. The Jazz TikTok bundle code redemption is designed to be quick and intuitive. With a single dial, you're brought closer to a world of uninterrupted TikTok entertainment. The simplicity of this process further strengthens the package's appeal among users of all age groups and tech proficiency.
Promotions and Discounts: Adding More Value
Jazz's commitment to providing value to its users often transcends its standard package offerings. Special promotions, discounts, and offers related to the TikTok bundle are introduced periodically. These offerings provide even more cost-effective options for users to enjoy their TikTok experience. Stay connected with Jazz's customer service or regularly visit their official website to remain informed about such exciting promotions.
Jazz TikTok Bundle: Tailored for You
What sets the Jazz TikTok bundle apart is its customizability. With different validity options available, users can choose the one that best fits their usage pattern and budget. From daily bundles for occasional users to weekly or monthly bundles for more frequent users, Jazz provides a plethora of choices. This flexibility underscores Jazz's focus on catering to the diverse needs of its users.
Jazz: The Name You Can Trust
Jazz has always been a trusted name in the telecommunications industry, and the TikTok bundle is yet another testament to its reliability. The easy activation process, transparency in pricing, and commitment to customer service further reinforce this trust among users.
Also Read: Jazz 100 GB Package: Package Price, Code & Details (2023)
Wrapping Up: Embrace the TikTok Experience with Jazz
All things considered, the Jazz TikTok bundle emerges as a compelling choice for TikTok lovers. Its dedicated data allowance for TikTok, ease of activation through the Jazz TikTok bundle code, affordability, and customizable validity options make it a frontrunner in the digital arena. Jazz's understanding of user needs and its endeavor to meet them effectively make the TikTok package a must-try for every TikTok user.
In the end, the Jazz TikTok bundle is not just about providing a data package—it's about delivering an unmatched TikTok experience. So, activate your TikTok Package Jazz Code, and dive into the world of TikTok like never before.
Because with Jazz, every TikTok moment is worth cherishing. Get started today!